Mission

---

Connect the Right Patient with the Right Treatment

---
Why are so many people with PD receiving less than the best treatment?
The complexity associated with decision making for difficult diseases that continuously change like PD is a challenge to learn, recall, and building parameters associated with the risk and benefits of trial participation versus approved treatment options prove to be very difficult tasks for many providers. As a result, the patient does not always learn about or participate in trials that may advance medicine and provide direct benefit. A very similar problem is associated with approved medications at large because the number of available options continues to increase as the time doctors are allowed to spend with each patient dwindles as providers are regulated by employers to limit visit time and maximize billable events.
New and less established medications are often appropriate for patients but not prescribed and patients are unaware that the treatment plan they receive is sub-par. Hundreds of thousands of Parkinson's patients across the US could live a higher quality of life if they were on an optimal treatment plan.
Your feedback and involvement is very important to us. If you have suggestions, comments, praise or concerns or if you would like to unsubscribe please email RMazer@ResearchCat.com.
We all need someone who has had PD longer for their knowledge and we need someone newer to give encouragement to.
What I like most is the compassion that we offer to one another!! This is what God wants us to do!!
What I like most are the posts from ppl who stay positive and keep their sense of humor about it. That's the best!
I like that I am not alone or judged.
It's free, unbiased, honest and truthful. More than a doctor can tell you. They do not know what we live thru each day. You learn what books or people can't teach.
I really appreciate it most when someone says they're having trouble with something and how they make it work anyway.
I have PD, I want to know every little tidbit that lets me live as normal as possible.
It is wonderful to know I am not alone going through it. So far we have had it easy but one never knows.
My husband and I have been married 50 years. Fell in love and married when we were 20 years old. "We" were diagnosed with Parkinson's and will face all challenges together, when he can no longer do for himself I will do for him, till death do us part. This group helps me stay strong for my husband.
This group has brought so much comfort to. Knowing I am not alone & there is no such thing as a dumb question. We learn from each other. Yes everyone is different because the disease is, but inside it is the same. The same thoughts, fears & emotions that we walk/even crawl through on a daily basis. Thank y'all for being a part of a "We"!!
Parkinson's Community founders meet in 2012 supporting a man with PD to accomplish his dream of climbing 4th tallest mountain in the US.
It was 1985 and Greg Hatstat was an active, athletic 32-year-old when he was diagnosed with Parkinson's disease. As the disease progressed, he would often gaze at Longs Peak and wish he could climb it. He tried three times, and with each attempt, foul weather or a physical limitation would interfere. He finally gave up. Then in 1999, Hatstat became one of the first Parkinson's disease patients to receive Deep Brain Stimulation (DBS) under the care of Dr. Rajeev Kumar the Medical Director of Parkinson's Community. DBS is not a cure, but it can help control the symptoms. So much so that at the age of 59, with a 27-year history of Parkinson's disease under his belt, the Colorado resident decided to give climbing one more try. This time, his team of coaches and helpers included his doctor.
"Dr. Kumar has been so supportive of me reaching this dream that he even said he would climb it with me," Hatstat explains. Mt. Harvard, near Buena Vista, is a very difficult climb. It's the third-highest peak in Colorado and the fourth-highest in the contiguous United States, rising 4,400 feet in 6.5 miles to a summit of 14,433 feet."
"Greg had some significant challenges," Kumar admits. "He freezes when he walks, as if his feet are stuck to the floor, so hiking something of this magnitude was a significant risk. He took significant safety precautions, which was good. I was worried about him getting back down, but he was way ahead of the rest of us. Walking with poles helped with his freezing, his gait rhythm, and kept him from falling. We also had a rope around him during the most difficult parts of the climb. He did really well, and the whole experience was really inspiring." In addition to Kumar, Hatstat's fellow climbers were his 20-year-old son, Daniel; his longtime friend and hiking partner, Rick Thompson, a former Marine; two professional guides; and Ron Kubit, and Ryan Mazer the founder of Parkinson's Community.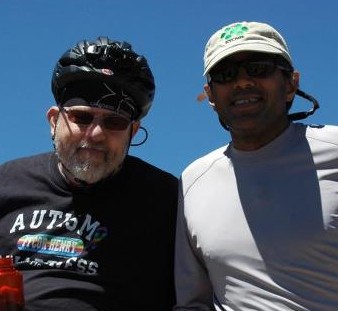 At the age of 59 with a 27 year history of Parkinson's Disease and so many missed opportunities, Greg Hatstat decided to give it one more try.  This time, his team of coaches and helpers included his own doctor!   "Dr. Kumar has been so supportive of me reaching this dream that he even said he would climb it with me," Greg explains.   Mt. Harvard, near Buena Vista, isa very difficult climb.  The third highest peak in Colorado and the fourth highest in the contiguous US, the mountain climbs 4,400 feet in 6.5 miles, with an ending elevation of 14,433 feet.
With the right people, the right skills and the right motivation you can overcome even the worst of conditions," Hatstat said. "This wonderful group of people gave me confidence and allowed me to drop all my fears and put my trust in them. With every step came more pain and more difficulty controlling my movements, and yet I felt as though I was being lifted to the top of Mt. Harvard by the collective energy of concern, confidence and encouragement.